We regularly hear from Dev10 Associates that we've changed their lives and that's why we do what we do. But when our clients tell us that Dev10 Associates hit it out of the park… Well, that's just icing on the cake!
How did we get this feedback? Let's explain!
Dev10 recently worked with ClearlyRated to survey our clients and ask: What's working for them? What's not? Of course, we ask them these questions every single day. But... human beings tend to be more candid and forthcoming when asked by a neutral party. ClearlyRated was a great choice because they're experts in the science of surveying.
So you're probably wondering: What did we find out?
We earned a Net Promoter Score (NPS) of 76.5 – which exceeds the industry average of 31 by a mile.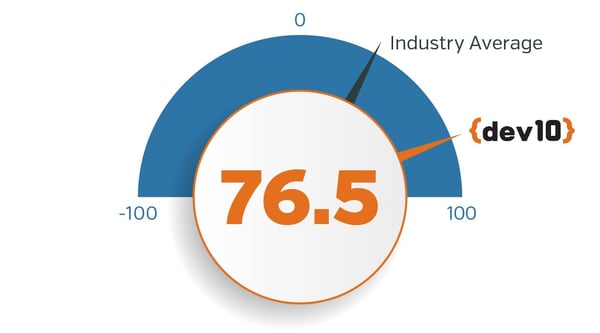 We also found out that we won a Best of Staffing Client Award, which is a distinction that fewer than 2 percent of agencies in the U.S. and Canada earn. Not bad, huh?
You've probably heard of an NPS, but in case you need a refresher, here's a quick explainer. To calculate an NPS, you ask clients to rate you on a scale of 1 to 10, with 10 being the highest rating. Then you take the percentage of clients who rate you with a 9 or 10 (the promotors) and subtract the percentage of clients who rate you with a 1 to 6 (the detractors).
In our case, 76.5 percent of our clients were "promotors," while none – zero, zip, zilch – of our clients were "detractors."
Is there room for improvement? Always. Do we want to see that NPS at 100 percent? You bet!
The best part of this survey effort is that we heard directly from our clients about their experiences working with our Dev10 Associates. The comments really warmed our hearts and reminded us why we do what we do.
Here are a few shout-outs our Associates received: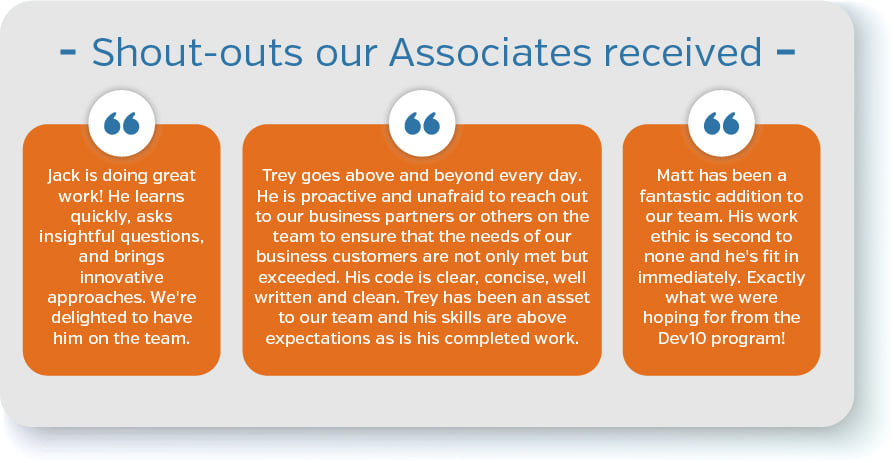 Fantastic, right?
We are also happy to share that Genesis10, the parent company of Dev10, won a 2023 Best of Staffing Award. Exceeding client expectations just comes naturally to us!
Eric Gregg, CEO of ClearlyRated, which administers the Best of Staffing program, said: "The 2023 Best of Staffing winners demonstrate a remarkable commitment to delivering amazing experiences, despite another year of upheaval and macroeconomic uncertainty. Hats off to these service leaders. It is truly an honor to recognize and celebrate their achievements."
Dev10's accolades include a recent Campus Forward Award for Excellence in Recruiting. Our leadership team has also been honored — Tara Wyborny, VP of Talent Development, was named one of SIA's Top 40 Under 40, and Angelia Brekke, President of Dev10, was named a Notable Woman in Technology by Twin Cities Business.
Rooted in satisfaction research for professional service firms, ClearlyRated utilizes a Net Promoter® Score survey program to help professional service firms measure their service experience, build online reputation, and differentiate on service quality.
---
Dev10, the tech talent development arm of Genesis10, believes in the unlimited potential of all people. Our comprehensive tech training and project work for Software & Data Engineers offers a path to a career in tech for people from all backgrounds. For more information on how we can solve your tech talent challenges or on how we can help you start a career in tech, visit www.dev-10.com.